6
minute read
This is just another memory dump from our family trip to great wolf lodge in Washington. I don't think anyone will really find this interesting besides myself and the kids in a few years.
We needed to be at coho ferry terminal for 9, which meant going through victoria traffic. It's been a long time, and this was probably the worst victoria traffic you could get. We gave ourselves an extra 45 minutes for the 45 minute drive, but even so, while going through the colwood crawl, we were starting to get nervous. But it turned out that once we got into downtown, traffic was pretty normal. Still, this was a reminder of why I'm glad to not need to commute through that traffic everyday.
Celeste was pretty good on the drive down. She mostly babbled, and ate an apple. Danielle was a good traveler as usual. I suppose we did give Celeste some orange segments which she smeared into her hair. What's new.
The ferry ride was fine. Danielle detested the ship's horn. Celeste enjoyed trying to fling her body down stairs.
Amanda had her usual chili while aboard, and the girls each had a peach yogurt. I got a whatever (chicken wrap this time).
During lunch,Celeste was smearing yogurt all over herself which was starting to visible disturb Amanda. I took Celeste to a separate table and somehow she got distracted watching the waves and so things settled down. Amanda and Danielle played that game where one person puts their hands underneath the other's and tries to slap them. Danielle loved it.
We picked up groceries at "grocery outlet" as per tradition. We loaded up on groceries at about half the price we'd get at home. Although, as usual, they didn't have a specific item: peanut butter. Kinda lame, but I suppose they only carry on-sale items.
Surprisingly Celeste didn't sleep the entire 3 hour drive. Just babbled and ate, and eventually doodled. At the very last minute she started to cry, right when we could actually see our destination. So she basically gets credit for being a good traveler. Although don't try to restrain her from eating apple cinnamon Cheerios (ay-yos) or leave her new owl stuffy (wowwell) in the car.
We've actually spent about a third of our time here in our room, relaxing, watching cable tv (it mostly reminded me why I don't miss it), munching on snacks.
Celeste and Danielle have both been loving the water park. Danielle is still afraid of the giant water bucket, but Celeste not so much (while Danielle was away, celeste explored around it and we got splashed twice).
The girls love the animatronics show. I think they did a good job of the music and animations, and they bring up an interesting question about whether a lost boy should be afraid in the forest. The boy points out he's afraid of the wolf, but the other forest creatures say (and sing) that he basically doesn't need to worry, the wolf is watching over them… in my opinion that answer is pretty weak sauce. Getting lost by yourself in the forest is a pretty big deal (although if it's a tiny park that doesn't count). And having a pack of wolves after you is pretty terrifying (even a pack of Mexican street dogs was a little scary, despite them being a motley assortment of big, small and baggy ones). Oh well, it's fun.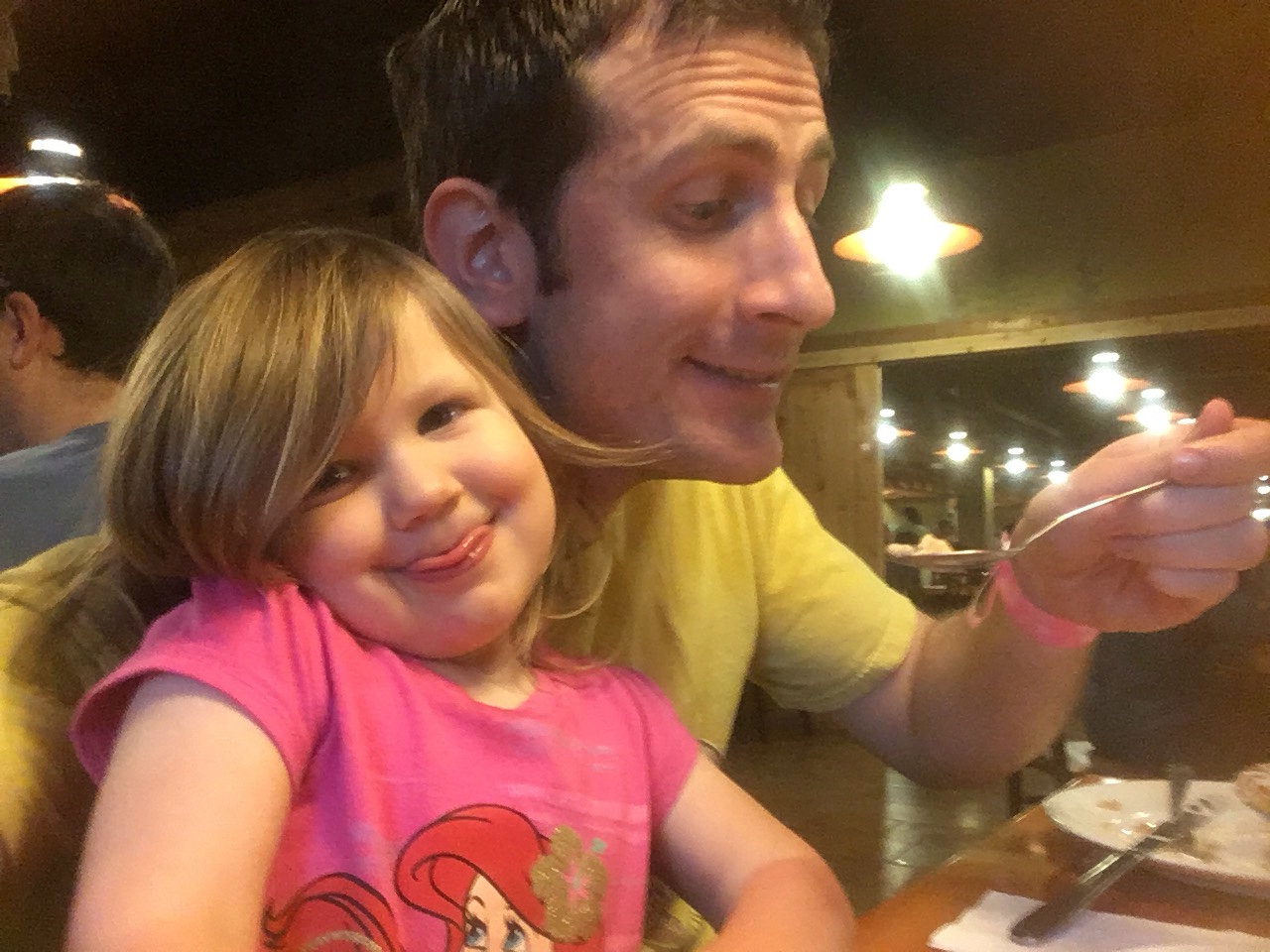 This morning we had an all-u-can-eat breakfast. My favourite items were: breakfast pizza, biscuits and gravy, breaded chicken, and spinach and mushroom omelette. Danielle's favourite items: strawberries, pineapple, and bacon. Amanda was the deluxe omelette and undercooked pancakes. Celeste loved strawberries, grapes, lucky charms marshmallows and apple juice.
Amanda was really hoping Danielle would go with her down a big slide today but she was nervous. I talked with her about how doing things mom wanted to do would encourage us to do things like this more… which I think is true. I'm not saying "we'll never come back if you don't go on the slide", and I'm also not inventing a random punishment or reward for compliance. In the course of discussing Danielle revealed she thought Amanda wanted her to go down a slide under the big water bucket. They loved it, it turned out.
Amanda got the "pup pass" which got us, among other things $10 of jellybeans. Danielle loves them, Celeste partially spits them, out while dancing.
Favourite games at the arcade:
Danielle really loved a kiddy car racing game. Unfortunately she really only got worse at it as she tried more. Celeste also enjoyed it, so much so that she was hard to pry off, and she enjoyed it without it even being turned on for her
Amanda was an all-star at some giant piano game, and at fruit ninja, earning a ton of tickets
I enjoyed the senselessness of a Jurassic park shooting game. To my knowledge, there was absolutely no story given. You're just on a team of para-military guys and girls, shooting and being eaten by dinosaurs. Celeste helped man my gun. Danielle sat with Amanda and was, in her words, "freaking out even".
Danielle and Celeste loved riding the mini carousel and ice cream truck
Danielle and Celeste were both incredibly duped by all the money-grab games. You know, the ones that look easy to win the prize or a ton of tickets, but have a trick which makes them impossible for beginners, and ridiculous for 4 year olds. Examples: games where you use a claw to get a stuffed animal, or drop a puck and it bounces around until it lands in a slot, or you shoot a hook and get to "save" an animal (the smaller, less-worthwhile animals are in front, and the more useful ones are at the back). Usually the games were very visually stimulating with cute fishes or animals, which the kids understandably love, but they really do seem mischievous. I suppose those ones are really pretty close to gambling, which is maybe why I dislike them.
The pup pass also got us a "small, single-scoop ice cream". Danielle was initially a bit disappointed at hearing that, especially when all four of us were going to share it. But it turned out to basically be four scoops, and Danielle got full before it was done. It seems our definition of "a scoop" differs quite a bit from the great wolf lodge's definition.
The drive home was basically miraculously good. During the entire 3 hour drive to the ferry, Celeste was awake and babbling, but not complaining (well, she complained at the very start, realizing what she was in for, but after a minute she was ok). Danielle napped.
We were set to be on-time for the ferry, but stopped to get gas. And unfortunately, the pump asked for my 5-digit zip code… which we don't have, in Canada. So I asked Amanda, and she vaguely remembered a trick where you'd take your Canadian postal codes numbers, add some zeroes in front, then it would work. At this point Celeste was actually quite upset, and we were late, and I couldn't think straight.
The pump wasn't accepting my "zip" code. So I went inside, and waited behind some large fellow, who was clearly in no rush whatsoever while he got all the snacks he could with the change in his pocket. Then the cashier tried to show me the trick (he said to place the zeros AFTER the numbers from my postal code). I thanked him but asked if I could pat inside because I was in a hurry. He said sure, but I needed to pump first (and then wait in line again while buddy bought more chips). I ran back, tried the new "zip" code I was given, which again didn't work, so filled up and ran back in. Amanda gave me a confused "um… where ya going?" Look. Paid the guy and ran back to the car. It turned out Celeste had been wailing this whole time and we were 5 minutes late for the ferry.
When we finally arrived at the ferry, it turned out arriving an hour early was pretty optional. Phew.
The ferry ride was uneventful. The girls enjoyed looking through brochures.
The drive home was a bit painful. Celeste started being really tired and cranky, so waiting at the border wasn't fun. Also, we were parked on the wrong side, apparently, because they unloaded the other side, then began loading cars onto the boat before we even got off. We were kinda thinking "excuse us! You forgot to let us off!" But I suppose it made sense: maybe it balanced the boat, and the line to the customs agent was full so there was nowhere for us to go anyway.
We eventually did get off, but we were the second to last car off. Then we get assigned a line for customs. It was apparently the wrong line because it didn't move, and we became the absolute last car in the line. With a cranky 2 year old. Eventually they told our entire line to just switch to other lines. At this point we got very lucky though, and got a very fast moving line and got through in a few minutes.
By the time we drove 2 minutes, Celeste was asleep.
Traffic was pretty epically bad: got stuck in 3 gridlocks (colloid crawl, Leigh road, malahat summit). Luckily Celeste fell asleep before the first one, and slept right through it. Danielle had a persistent cough that might have been the reason Celeste woke up, but she looked around, saw everything was boring, and fell back asleep. Twice (once around Leigh road and once at the malahat summit). The drive took us about 2 hours instead of 45 minutes, but thankfully Celeste was asleep and not yelling. She wasn't impressed with the idea of sitting in the car for the entire drive home that morning, so I'm really glad she slept through that last longer-than-expected leg.
And that was our trip.